[Product Description]
For wrist exercise, two gyro rotors are configured like a dumbbell and centrifugal force is generated by repeatedly rotating the eccentric rotor at the same axis at a high speed controlled by the force of the wrist.
Principle of this wrist exercise is the principle of inertial and the principle of acceleration in a circular orbit which generates centrifugal force. Wrist exercise is done by repeatedly tossing it with the wrist.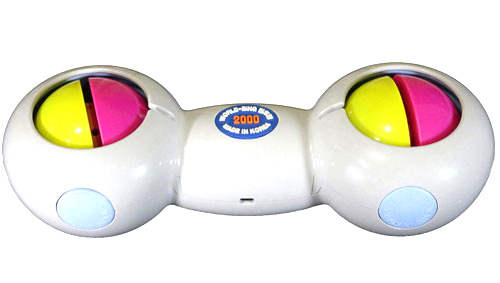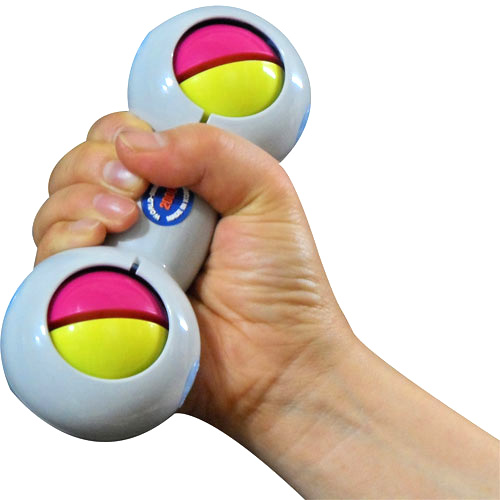 [Product Features]
To start, the operating strap is wound around one or two rotors selected by the user, the operating strap is then pulled manually to initiate the rotational force and centrifugal force.
To increase the rotational force, rotational force is generated by tossing repeatedly with the wrist matching the rotation rhythm.
Intensity of the rotational force is adjusted by the wrist rotation. At maximum, it generates 13,000 rpms and a gravitational force of 8kg (4 x 2)
[Product Specification]
-two gyroscope rotors configured like a dumbbell
-dimensions 60x185x60mm / weight 550g
- composition : ABS, St, Zn
[Product Others]
1. wrist strength improvement
2. portable exercise during business trips
3. youth athleticism development
4. businessmen's exercise
5. carpal tunnel syndrome treatment & improvement
6. rehabilitation physiotherapy for recovering patients
7. cognitive exercise and strength restoring for the elderly
8. cognitive function promotion