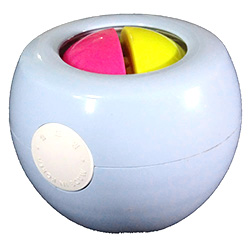 [Company Introduction]
Established in 2014, WORLD-ING is the only Korean company that manufactures and sells gyroscopic wrist exercise equipment.
Factory is located in Suwon City and we possess 16 patented intellectual property rights and the world-class original technology.
This product is a device that helps wrist exercise by enabling a person to rotate wrist repeatedly and control the rotational force of an eccentric rotor that creates centrifugal force through revolution and rotation occurring simultaneously from the same axis at a fast speed.
This product is lightweight and easy to carry yet once initiated, it gives a sense of weight.
This product is developed creatively and is getting positive responses from customers due to its ease of use.
In 2015, received gold medals at the Geneva International Invention Exhibition in Switzerland and at the Taipei International Invention Exhibition in Taipei,
and in 2016, awarded grand prize at the China Shanghai Exhibition.
We conduct research and development according to the requirements of consumer needs.
We will build a permanent market by providing satisfactory service to our customers.
In the future, we will develop a variety of BM models combined with IT to contribute to the improvement of the national health and future sports market.
We look forward to your support and guidance.
Thank you.
[History]

2017. 7
Secured 16 intellectual property rights globally

2017. 7
Entered Taobao shopping mall

2017. 7
Entered Coupang shopping mall

2017. 5
3rd prize in patent competition (creative economic town)

2016. 9
Entered e-bay & Amazon shopping mall

2016. 9
Entered Auction & 11st shopping mall

2016. 5
China Shanghai Exhibition Grand Prize winner

2016. 5
China CCC standard certification contract

2015. 10
Taipei International Invention Exhibition gold medal winner & best technology winner

2015. 4
Switzerland Geneva International Invention Exhibition silver medal winner

2014. 3
Company founded